Download the latest report and find out what trends will shape the IT industry in 2022.
Which trends should be included in your business development strategy?
We are facing a year of great challenges for the IT industry, shaped by the pandemic and the acceleration of digitization and the automation of business processes. As with every Devire Market Insight Report, we analyse changes in the labour market, assess the professional situation of employees and candidates, and outline the expectations of experts that Polish companies will have to meet.
The main topic of the latest report "IT Sector 2021/22. The globalization of the labour market is driving the race to attract IT talent" are the trends affecting the future of the IT sector in Poland and the search for new, creative solutions that will provide answers to troublesome questions.
Download the report and find out the answers to the following questions:
What technologies are gaining in popularity?
What factors are influencing the increased competitiveness of employers from the IT industry in Poland?
What do candidates pay attention to when changing jobs?
How to attract the most sought-after experts from the IT industry?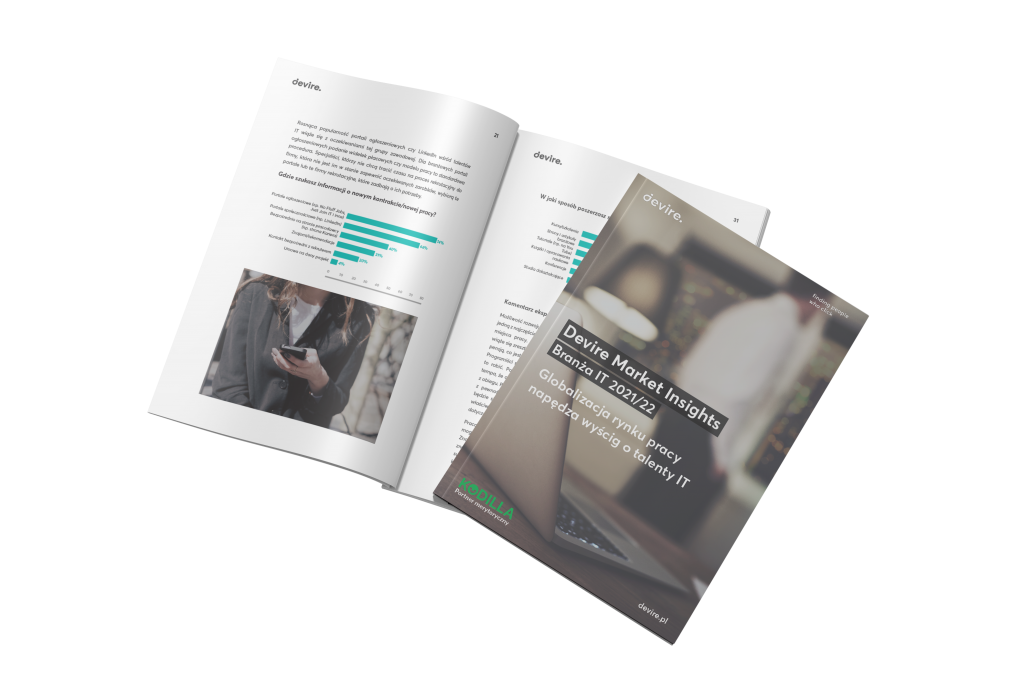 Companies that do not have offices or a representative presence in Poland are more likely to reach out to and employ Polish IT specialists.
Wage pressures are increasing. 85% of IT workers who received a pay rise in the past year continue to have high financial expectations.
54% of IT experts stated that their preferred work model is #workfromhome
The availability of development and training may affect the motivation to take up employment and may also impact on a candidate's loyalty to their employer.
.
For 84% of IT talents, the salary range included in the job offer remains the most important issue when it comes to changing employment.
.
The job market in the IT industry is developing at a dizzying pace. Quick decision-making and the modification of processes remain foundational approaches for the effective implementation of changes and the achievement of a company's competitive advantage. Learn about the key trends and challenges for the IT sector and read the opinions of experts. The report is based on a CAWI survey of 468 respondents from the IT industry throughout Poland.
Our possibilities do not end here. Check out other solutions that will increase your company's competitiveness.
IT Contracting Experts in Poland
Recruitment agency scoring top-notch talents in IT & Telecoms
Looking for permanent, temporary or contract employees?